Members are encouraged to wear their Name Badges to meetings in order to get to know one another more easily.

Name Badges are also required to be shown at nurseries that offer discount to Sarasota Garden Club Members.
---
New members are automatically issued a temporary name badge that can be hung around the neck from a lanyard, but the club offers members the facility to have a more substantial name badge, with a magnetic attachment, which is easier to wear.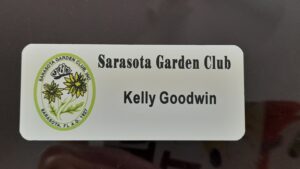 The cost for this is $13, just to cover production costs.
Order Your Badge Below: