Preserving our gardens and historic landmarks while promoting the environment, conservation and civic beautification through education and programs.
Objectives:
Proceeds for events and donations to the Sarasota Garden Club go to the Garden Club and its community projects
College scholarships
Tidewell Grief Therapy
Planting and maintaining the plants at the Doughboy Statue in Hamel Park
Refurbishing the Blue Star Marker (dedicated to the men and women in the armed forces) on 41 and maintaining the surrounding plantings
Maintaining the Secret Garden on the Ringling grounds
Horticulture and Design programs that are open to the community
Civic Beautification Awards for businesses that have done an outstanding job of   Landscaping and maintaining their properties
Maintaining the Sarasota Botanical Gardens which are open to the Public
Coral reef restoration
Supporting the Conservation
Organized: May 6, 1927
Federated: November 13, 1933
Incorporated: April 22, 1955
Affiliated with:
National Garden Clubs, Inc.
Deep South Region of NGC, Inc.
Florida Federation of Garden Clubs, Inc.
District VIII of FFGC, Inc.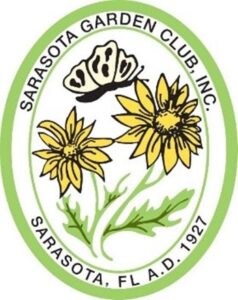 Club Colors: Green & Yellow
Club Flower: Compositae Family – Daisy
Club Tree: Tabeuia Caraib – Tree of Gold
Club Butterfly: Colias Philodice – Sulphur Yellow
Membership:
To be eligible for membership, one must have an interest in the objectives of the Sarasota Garden Club and must demonstrate a willingness to work on committees, support projects, attend meetings, and take an active part in general garden club work.
Applications for membership shall require completion of an Application Form and payment of the annual dues of $95.00.
Contact email: Office@SarasotaGardenClub.org