The Sarasota Garden Club has many different
Interest Groups

under the Community Projects heading, and sponsors and/or participates in many community events, some of which hold popular annual events such as the "Civic Beautification" awards event, and numerous youth and "Memorial Marker" events, to name a few.  There is something for every member to become involved in and give back to the community.

Civic Beautification – Sarasota Garden Club continues to encourage the beautification of our community by recognizing outstanding landscaping at businesses, public buildings, churches/places of worship, homeowner's associations, parks and recreational areas.  Florida Federation of Garden Clubs and Sarasota Garden Club are committed to the belief that "Good landscaping is good business".  Committee members survey and photograph assigned zip codes, looking for properties with attractive curb appeal and which meet our criteria.  Beautification awards are presented at a luncheon, usually in January.

J.D. Hamel Memorial Park, Blue Star Marker – Sarasota Garden Club maintains the landscaping around the bases of the Blue Star Marker and the Doughboy Statue in the JD Hamel Memorial Park, highlighting Memorial Day and Veterans Day.  These sites are viewed as an important part of SGC's community services.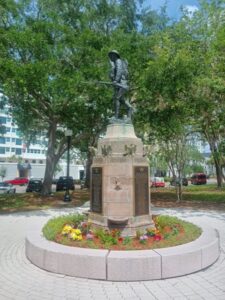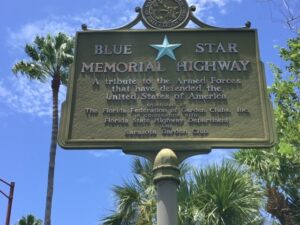 Florida Arbor Day– Over the years, many trees have been planted throughout the city. The program uses Florida Friendly plantings for the community environments.  Each year Sarasota Garden Club continues this tradition.
Scholarships – College and High school scholarships have been offered every year since 1985 for students interested in the Natural Science field. See our Scholarships section for applications. CLICK HERE FOR MORE INFORMATION
Youth Programs – The Butterfly and Sarasota Garden Club hosts on-site programs for special needs and school groups throughout the year to enrich the youth's appreciation of the Gardens and Butterflies.