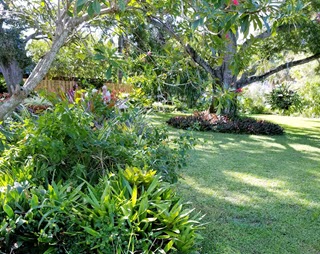 The Sarasota Botanical Gardens occupy over an acre of land with nine individual gardens which have been cultivated to accommodate a variety of growing conditions and purposes. They are designed and maintained solely by the Sarasota Garden Club members
The Welcome Garden
The Herb-Knot Garden
The Butterfly Garden
The Bromeliad Garden
The Woodland Garden
The Quiet Garden
The Falling Waters Garden
The Circle Garden
The Fern Garden
See a map of these gardens>>>>
The Master Plan for further development of the Botanical Gardens calls for continuation of the wheelchair accessible pathway connecting all nine gardens with signage to identify the garden and its plant life. In this way the gardens will serve our members and the public not only as a source of natural beauty and serenity, but as a Demonstration Garden for those interested in identifying plants appropriate to Florida gardening.
The Sarasota Botanical Gardens are also working with The Bay Park Conservancy to create a natural connectivity between our gardens and the new 53-acre Bay Park that is currently under development.
Among the nine individual gardens are plant and flower contributions made by or in honor of members of the Sarasota Garden Club.   The generosity of our sponsors as well as our members hours of volunteer labor are what sustain our gardens and provide the means to assure our vision for the future. The Sarasota County Butterfly Club is also an active participant in maintaining and supporting our Catherine & Richard LaBrie Butterfly Garden.
Each Friday, from 8:00 – 11:00 a.m., is an open workday in the gardens for all members and non-members. We welcome you to join us in the maintenance and expansion of our beautiful community showplace.
Print the Garden Map (PDF)