The Historical Marker Program recognizes historic sites, persons, and events that are significant in the areas of archaeology, architecture, traditional culture, and local, regional, state, and national history.
February 16th: It was a perfect day, bright sunshine, and a cooling breeze.  The garden looked beautiful, and the County had organized the plaque, speakers, photographer, and even a band! SGC volunteers decorated The Great Room, with individual table flower arrangement, and once again our Hospitality Team provided tasty refreshments for the reception.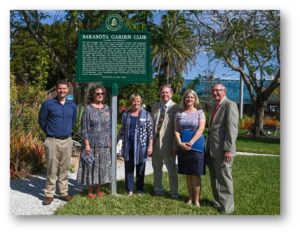 Olivia Haynes (3rd from left) Chair of the History Committee at Sarasota Garden Club accepted the award with the following words:
"This project began for me in 2015 when, as President of SGC, I was asked to speak at The Marker Celebration for the Mable Ringling Fountain at the Senior Friendship Center.  During that event, it occurred to me that the SGC building and grounds should be marker-worthy, as we were both Historic and Beautiful and, at the time, almost 90 years old.  I talked to Ruth Mary Williams about the possibility of getting a marker – and she agreed.  She was completing her term on The Historical Commission, and I was completing my term as President of Sarasota Garden Club.  That summer, Ruth Mary and I met several times and gathered the materials to put together the application.  Little did I realize then the long adventure that I was about to embark on!  I would like to give special thanks to Josh Goodman and Renee Di Pilato for all their help in finally making my dream a reality.
The SGC is now approaching 95 years of existence.  The founding members of our club read like a "Who's Who" in Sarasota's history:
Mable Ringling was our first President, and other founding members include:
Marie Selby, Owen Burns, Ellen Caples, Mrs Charles Ringling and Ralph Twitchell to name a few.
The Garden Club has actually been gardening on this property since the 1930's. 
Ellen Caples presented the Club with the beautiful Japanese lantern in 1939.   This lantern became the inspiration for Victor Lundy's design of the Pagoda Building next door.
Our building, which was designed by Sarasota School of Architecture architect John Crowell, is mid-century modern and was completed in 1960. 
Our "Garden Shed", which was originally a pavilion designed by Burt Boosreth, was donated by Marie Selby and was designed to coordinate with Victor Lundy's Pagoda Building.  Our lush gardens are all taken care of by volunteers under the direction of Kay Weber, our Botanical Gardens Chair.
While waiting for the county Historic Marker, the SGC applied for AND RECEIVED a National Historical Designation, with member Bruce Jensen gathering the information and applying. 
Recently, the SGC has embarked on another new journey, our partnership with The Bay, which began in January.  This will allow our beautiful building and gardens to be an even greater part of the Sarasota community.
Today, as we celebrate our Historic Marker and our National Historic Designation, we are proud of these accomplishments, and we are so happy that you all are here to celebrate with us."​
The Sarasota Garden Club are lucky to be recognized with 2 other awards: