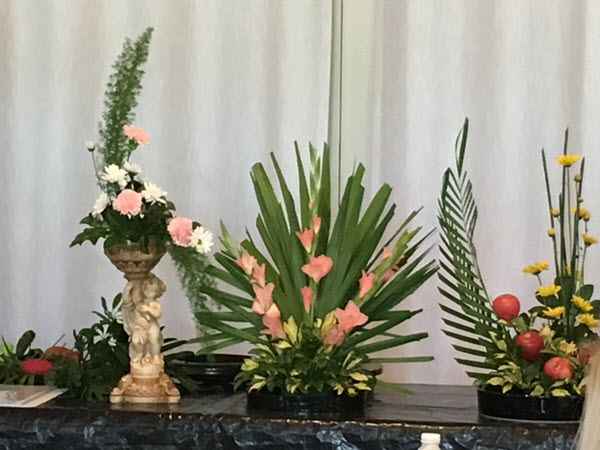 SARASOTA GARDEN CLUB PRESENTS BASIC SIX FLORAL DESIGN PROGRAMS
This year we are going back to basics…Our class schedule will cover the FFGC FLORAL DESIGN STUDY UNITS 1-6. These units are designed to develop a unified understanding of the Art of Flower Arranging. Each unit is held one day with lecture/ demonstration in the morning, a lunch break and creating workshop in the afternoon for a take home of your design. Hand out for all units will be provided upon registration and payment. A Certificate of Achievement will be presented at the end. The first three classes will have flowers provided. The next three will focus on creativity and expression of design.
The classes will be from 9:30-1:30 the second Tuesday of the month. Fee is $150 for all 6 classes. Student brings lunch and the committee provides refreshments in the morning.
This is an exciting opportunity to get firsthand instruction from Top Designing Judges in District VIII. The classes will be full of extra information to make your designs outstanding and the techniques and the secrets you will learn from these judges will benefit you for your home designs to being prepared and willing to enter a Flower Show.
Do not be left out, the classes have a student limit for more individualized teaching.
You will be so happy that you are exercising your creative skills! Looking forward to your joining us!

OCTOBER 1, 2019 – Learn basic tools, mechanics and components of a design; how to choose good containers; correct types of plant material. Demonstration of Vertical, Asymmetrical, and Crescent.
NOVEMBER 5, 2019- Care, Cutting and Grooming; Elements and Principals of Design; Diagonal and Symmetrical design.
DECEMBER 3, 2019 – Curved line design, crescent and Hogarth, using fruits and vegetable. Compatibility of Plant Material with containers
JANUARY 7, 2020 – Table settings, buffet, tray and coordination of floral design with table components.
FEBRUARY 4, 2020 – Bases and Accessories, how to make your design stand out.
MARCH 3, 2020 – Expressive design conditioning and transporting, types of designs. Exciting use of color.