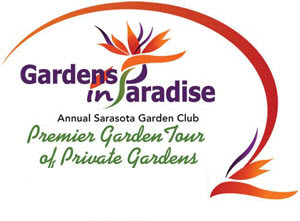 Gardens in Paradise 2020 is Coming!!
Saturday March 14th
9:30 AM – 4:00 PM
This self-guided tour features 7 lovely gardens in the Sarasota area, as well as the gardens at The Sarasota Garden Club.   This is a lovely way to spend the day!
A buffet lunch at The Sarasota Garden Club is available for only $15 00
For a preview of what you will find on the tour, go to Gardens_in_Paradise on Instagram.
Tickets will be available at any of the gardens  listed
Saturday March 14
Photos of Our 2019 Tour